Brief description
Ion-plasma process equipment has been developed to apply functional coatings onto hard-to-reach inner axisymmetric surfaces of parts. The technology that uses the equipment makes it possible to apply coatings of different compositions and purposes and is environmentally appropriate.
Purpose
Extension of the service life of friction pairs in critical machine assemblies that are subject to increased corrosive and mechanical wear.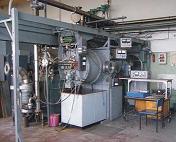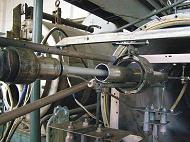 Fields of application
in landing gear;
In aircraft hydraulic units;

in versatile machines, in mining and drilling equipment.

Chief advantages
Single-layer, multilayer, nanostructured and nanocomposite coatings of different compositions and purposes;
The minimum dimension of the surface to be coated is 25 mm. No limitations on the coating length;
Single-layer coating thickness up to 100 µm;
The surface temperature during coating deposition is 200 – 400°С;
The coating roughness corresponds to the substrate roughness;
Environmentally appropriate alternative to galvanic and chemical inner-surface coating application processes.
Stage of development
Pilot plasma process apparatuses and an industrial prototype plant have been developed and made to coat the working surfaces of friction pairs of the cylinder-piston type made of VT22 high-strength titanium alloy;
The development is covered by a Ukrainian patent.
Operational testing
The technology and process equipment developed were used for the application of a Cr-based protective coating onto the inner working surface of a titanium element of the AN148 airplane hydraulic system (inner diameter of the working surface – 32 mm; length 250 mm; coating thickness – 30 µm; coating microhardness – 12 GPa; coating roughness parameter – 0.2 µm). The coated part was put to a comprehensive life test in the amount of 74,500 simulated flights. After the test the functionality of the coated working surface was fully retained.